Zappette The Robot Clock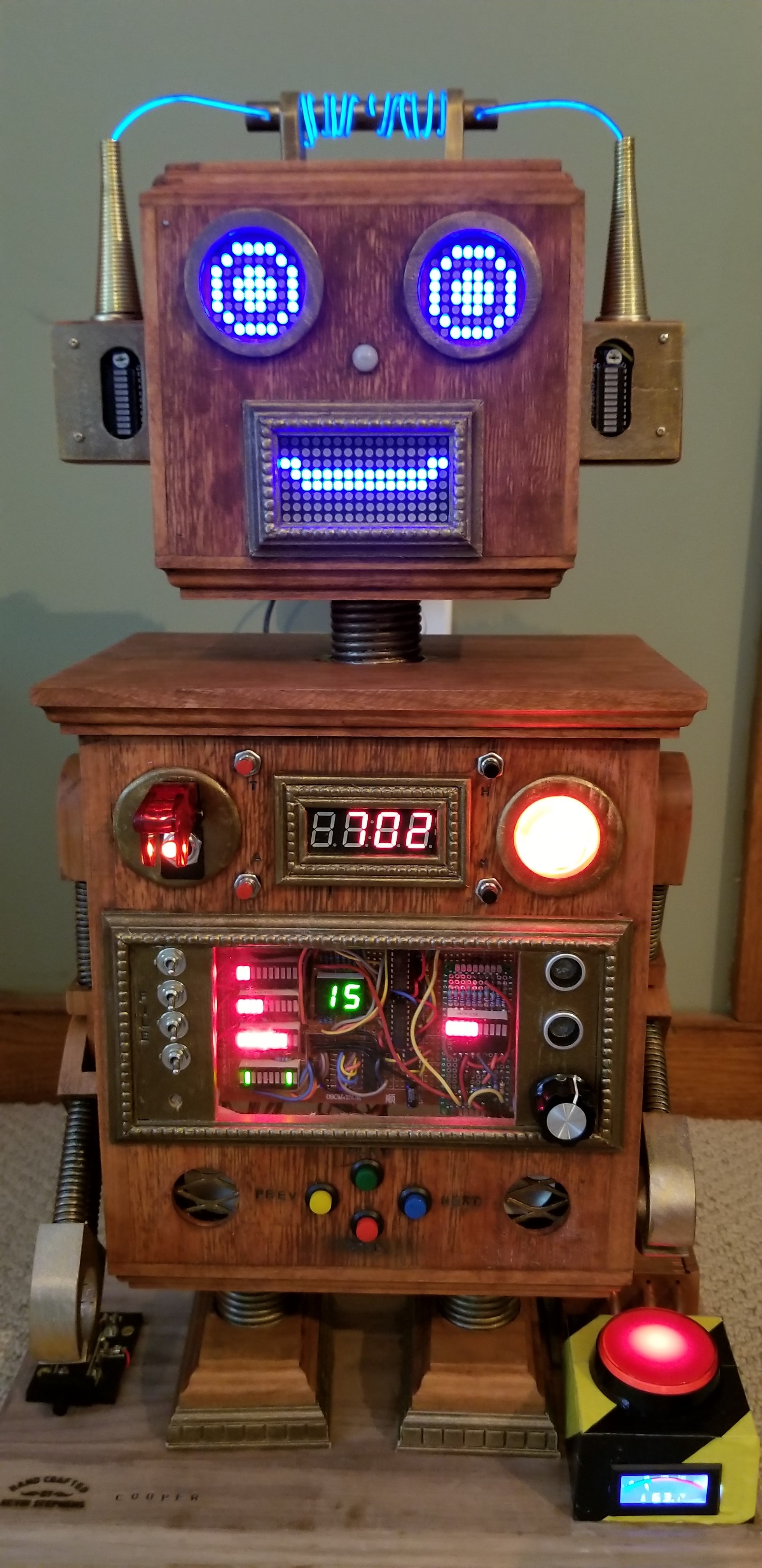 This is
Zappette The Robot Clock
! Years ago I made
Zappo The Robot Clock
for my son. Now I needed to make one for my daughter. Zappette is an Arduino microcontroller based, fully functioning alarm clock and MP3 player with many features:
MP3 volume activated LED "ears" using LED bar graphs
Animated LED matrix eyes and mouth
Motion Sensor (PIR) "nose" affects eye animation
Ultrasonic Distance Sensor affects eye animation
Photoresistor for controlling LED brightness based on ambient light
Case LED lights to illuminate the internal boards
Current Time with ambient light brightness control. Blinks ":" for seconds and displays PM as a dot
Red LED "Safety" switch to activate alarm
Two snooze buttons ( when alarm is not active it plays the alarm sound file and displays the alarm time )
4 binary switches for picking alarm file. Displayed on 2-digit 7-segment display
Clock/Alarm time set buttons. "time" must be held down while pressing "hour" or "minute"
"Sleeps" from 7pm to 7am like we hope Veronica will! Turns off everything but the clock/alarm
EL Wire antennas for night light
Knife switch on base to turn on/off EL Wire and force sleep for eyes/mouth
LED bar graph for MP3 volume
Play, Stop, Previous and Next buttons for MP3 player. Plays random only
Two speakers for MP3 playback
Temperature gauge with sensor in the body to show internal temperature
24 inches tall, Cherry wood body with positionable arms
I have done many electronics projects since I did Zappo and I reused some code from Zappo, but I would estimate I still put in around 80 hours total work time on Zappette including the electronics and the wood working.