Zappo The Robot Clock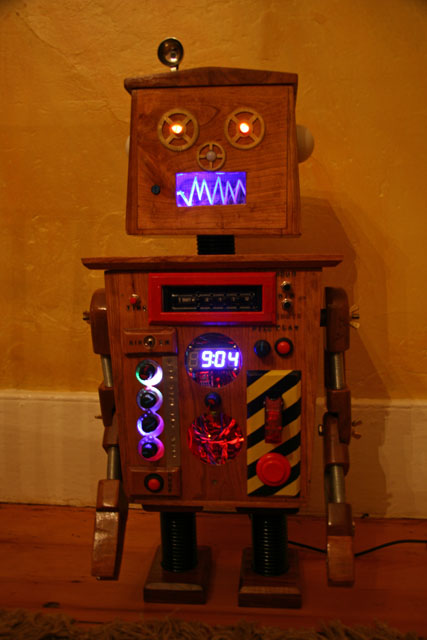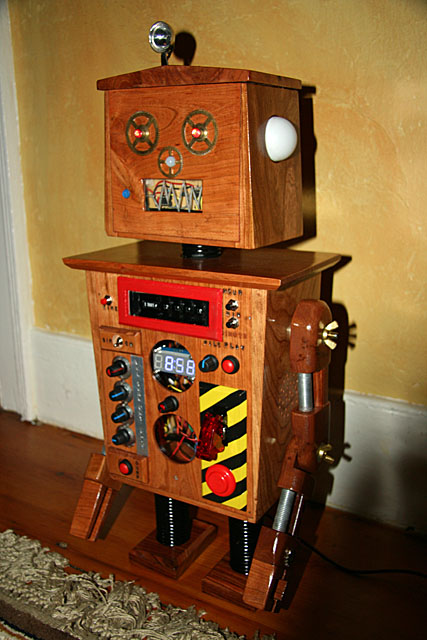 This is
Zappo The Robot Clock
which I made for my 3 year old son: Cooper. Zappo is an Arduino microcontroller based, fully functioning alarm clock that plays sounds files, makes siren sounds and many other features:
Sound activated LED "ears"
Motion Sensing (PIR), color-changing LED "eyes"
Side lit acrylic LED "chaser" mouth
"Fading" LED activity light on top
Case LED lights to illuminate the internal boards
Siren noisemaker with volume, frequency, delay and tone knobs. Backlit with fast, color-changing LEDs
Knob/button for choosing and playing sound files
Current Time with ambient light brightness control. Blinks ":" for seconds and displays PM as a dot
Red LED "Safety" switch to activate alarm
Snooze button ( when alarm is not active it plays the alarm sound file and displays the alarm time )
5-digit Rotary Switch for choosing alarm sound ( including siren ) and setting the alarm time in military time
Clock time set buttons. "time" must be held down while pressing "hour" or "minute"
"Sleeps" from 8pm to 8am like we hope Cooper will! Turns off everything but the clock/alarm
Two independent speakers so siren AND sound files can play simultaneously. Dub Step?!
Optional ( via DIP switch ) degrading snooze that shortens the snooze interval.
20 inches tall, Cherry wood body with positionable arms
This is my first large scale electronics project and my first Arduino project. It was inspired by
Robotty
and was going to be just a simple nightlight. The goal was to make it turn on/off with Cooper's bed time to help him know when to go to sleep and when to wake up his parents. After working through some experiments in the
Make: Electronics
book I decided I should take some of the random circuits I had collected on my workspace and combine them together. A 3 year old does not really need an alarm clock, but I figured if I was going to put in the effort I might as well make something that would serve a long term purpose. Cooper keeps me busy so I had very limited time to actually work on it. Ignoring studying and pondering I would estimate I put in around
70
hours total work time for the electronics and the wood working.
Technical Features:
The body is made out of cherry wood finished in a clear gloss lacquer ( not polyurethane ). The neck and legs are a recycled garage door spring. The arms are some miscellaneous springs and wood I shaped to look like clamps. The gears for the eyes and nose are recycled from an old clock. The 7 segment display and circular hole below it are made with clear acrylic I recycled from a local plastics cutting company. The background for the siren is the same acrylic roughed up with sand paper for a frosted effect.